Designer Perms & Smoothing Systems
Our Hair Designers will offer the latest techniques to compliment you personality and style. Enhancing your hair design by giving volume, texture, curl versatility, and or smoothing out unwanted curl.
Perm $70 & up
Perm, Cut, & Style $95 & up
Spiral & Creative Perms $100 & up (Does Not Include Cut)
Coppola Keratin Complex Smoothing Therapy $300 & up
Coppola Keratin Express Treatment $100 & up
Consultation Required
Designer Perm and Smoothing Systems have a two week guarantee if professional products are used.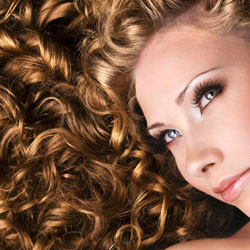 What is Keratin?
Olaplex Helps Never Break A Guests Hair!
Keratin is a protein that is found naturally in your hair. During a Keratin treatment your Hair Designer applies the Keratin to your hair and then seals it in with a flat iron. This service will prevent frizz, decrease your hairs drying time, create a smooth, shiny luster. This treatment must be maintained with only Coppola Hair Products to make the treatment last to its full Potential.