Designer Perms & Smoothing Systems
Our Hair Designers offer the latest techniques to compliment you personality and style, enhancing your hair design by giving volume, texture, curl versatility, or smoothing out unwanted curl.
Perm $80 & up
Perm, Cut, & Style $100 & up
Spiral & Creative Perms $150 & up (Does Not Include Cut)
Keratin Complex Smoothing Therapy - Consultation Required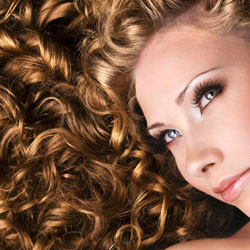 What is Keratin?
Keratin is a protein that is found naturally in your hair. During a Keratin treatment your Hair Designer applies the Keratin to your hair and then seals it in with a flat iron. This service will prevent frizz, decrease your hair's drying time, and create a smooth, shiny luster with up to 50% - 80% curl reduction.