Creative Colors & Highlights
Color will compliment any hair design created. We can give our guests bold color fashions or the natural softer looks,whichever suits your personality. We have some of the finest and latest techniques to offer you.
New Growth $48 & up
New Growth with Blending Highlights $65 & up
Panel Color $70 & up
European Highlights $90 & up
Star Panel $90 & up
Vertical Panel $90 & up
Panel Highlights $80 & up
Partial Panel Highlights $60 & up
Flash Lights (Top Only) $48 & up
Ombre $90 & up
Semi Permanent $40 & up
Toners Additional $15 & up
Soap Cap $10 & up
Colored Lighteners $25 & up
All Gem Colors Used Are Extra $20 & up
Olaplex Bond Protecter $10 & up
Corrective Color - Consultation Required For Pricing

* Long hair and Thick hair pricing is slightly higher. Prices will be discussed and quoted during consultation prior to services.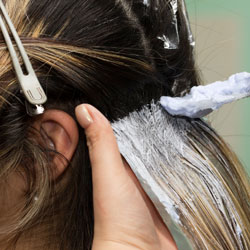 Olaplex Helps Never Break A Guests Hair!
From Base Color to a Highlight, Olaplex multiplies bonds making hair stronger, healthier, while color lasts longer with more vibrancy.